?

2018 was a fantastic year for our lagottos – gaining 3 new C.I.B. titles 

?
?C.I.B. NORD UCH RLD N
Rowntree Mazarati "Mio"
Greatly presented by Åsa and Jonas Bygdén
You came to me asking for a family dog and I did say that this little puppy is very promising I think. "So can you possibly try to show him one or twice .. "
The results above talk for itself ?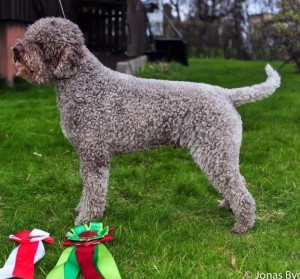 ⭐️C.I.B. EE CH FI UCH LV CH
SE UCH SE VCH
Rowntree Ruzzola "Zoola"
Greatly presented by Eva Hildebrand
You and Per-Erik has done a fantastic job competing with "our lagottos" during the years !
⭐️ C.I.B. SE JV-15 NO V-16
NORD U UCH SE UCH RLD N
SE VCH
Rowntree Ugo Unico "Pronto "
Greatly presented by Malin and Märtha Hammarlund
I will never regret I did chose you to purchase and chere this special boy with me !
He will emotionally alway be mine aswell ?
A big thank's to all of you

❣️


I'm very prod and happy 

❗️